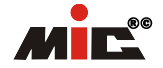 Beyond Customer Satisfaction…

Product Search

Medical Application

Automotives Application

Power Supply , Invertors , UPS Application

Lightining Application

Security Application

Home Application

Automotive Lightning Application
Master Instrument Corporation (MIC) is a pioneer and world leader in the production of a complete range of Diodes , Bridge Rectifiers & Leds . Since it's establishment in 1988, MIC has always been focused on customer experience through its world-class and Quality products.

Innovation and improvisation have always been hallmarks of practices at MIC. Through the use of cutting-edge technology at it's state-of-the-art manufacturing facilities in the Shanghai, Henan, and Shandong provinces of China, MIC has exponentially grown over the years and has established itself as a market leader with its diverse product portfolio in the areas of Rectifier Diode, Bridge Rectifiers , Regulator and LED manufacturing.

Currently, MIC has deep penetration and an impressive sales presence in two of the world's biggest markets: China and India. MIC also takes pride in catering to it's prestigious clients in the U.S. and European markets.
MIC's manufacturing bouquet offers a complete range of the following Diode and Bridge Rectifiers:

Automotive Diodes
Schottky Barrier and Super-Fast Rectifiers
Ultra-Fast Rectifiers
High-Efficiency Rectifiers
Fast-Recovery Rectifiers
General Purpose Rectifiers
High-Voltage Rectifiers and Diacs
Switching Diodes
Zener Diodes
Transient Voltage Suppressors
Single Phase & Three Phase Bridge Rectifiers
Diode Modules
Regulators
LED
7 Segment Display
Small Signal Transistor